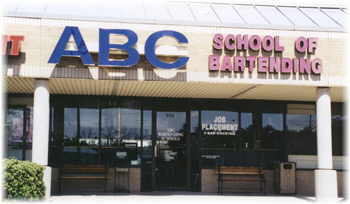 Our Atlanta schools are authorized under THE NONPUBLIC POSTSECONDARY EDUCATION INSTITUTIONS ACT OF 1990
We have an A+ rating with the Better Business Bureau in the 20 years that we have been training bartenders in Georgia.
ABC Bartending Schools in the Atlanta, Georgia is located on Windy Hill Road, Marietta.
Here are some reasons to consider ABC for professional bartending training. ABC has over 30 years of experience with 34 schools from South Beach, Florida to Honolulu, Hawaii. You can be rest assured we have the knowledge, experience, staff and equipment to train you… And once completed… Job placement personnel to assist you in finding the job that's right for you.
The staff members that answer your questions will also be your instructor. This allows us to offer you that personal service and relationship. Which is so hard to find in today's market place. Our professional staff makes sure you get the right combination of classroom and "Hands on training". Feel confident as our staff provides individual attention to each student from enrollment to graduation.
Our job placement office is in constant daily contact with all types of establishments in Atlanta and throughout Georgia additionally, graduates of ABC are entitled to nationwide job placement and refresher courses.
Our classrooms are fully equipped with ice machines, soda guns, an updated bottle inventory, glassware, blenders, video support, and a bar that allows us to provide you the most up-to-date training.
Our training program is 40 hours in length. We offer 1 week all day classes, 2 week morning classes and a 2 week night class. Weekend classes can be arranged as well. This flexible class scheduling allows you to choose the program that's right for you. Upon completion you'll feel confident and prepared to work as a bartender. Our classrooms are available and open for you to come in and practice anytime to hone your skills and reaffirm your confidence.
Call us or E-Mail us today at ABCBARTENDINGATL@BELLSOUTH.NET for the information you need to begin your career as a professional bartender. Tuition is affordable. The most amazing part of this career choice is that unlike most schools of higher education… You can pay off your tuition investment with in a few weeks of graduation!
Thank you for visiting our web site: Contact us anytime to tour our school.
Cheers
Staff of ABC bartending schools